Wiwit with TJSignature Group offers much more than regular real estate service. This is evidenced by the testimonials provided by some of our actual clients as follow.
---
Mulyono & Susan, IT Professionals
Wiwit helped us finding our dream home and selling our old house. We can't be happier with his service. He was always on top of things and was always available whenever we had questions. His attention to detail was second to none.
Here is our buying experience: Wiwit took our needs seriously and started sending houses that meet our criteria right away. We received a daily update on the inventory so whenever there was a new house came on the market; we were the first to know. We visited many houses prior to finding the right one. He was extremely thorough inspecting each house we visited. He almost always had a camera with him at all times. We found this very useful, especially when looking at several houses for the same day. Once we decided on potential houses, Wiwit ran deep analysis on the house and the area. After our contract was accepted, he managed the process very well, from ordering home inspection, termite inspection to singing all necessary documents. Because of his knowledge about title insurance and services, we were able to save in closing costs.
Our selling experience was also great. We sold the house in twenty three days with multiple offers. This was amazing considering the market condition. Wiwit provided something that not too many agents do, that is to stage the house for free. It was a lot of work to get the house ready but he worked with us very closely to make our townhouse more appealing and more presentable. This service was proven critical for us since our house was empty. Wiwit provided necessary staging items and accessories with no extra charge.
From the beginning of the selling process, he shared his marketing plan with us. This made the process very transparent. Unlike other agents we had in the past, Wiwit's marketing plan felt more robust. To mention a few: he had signs everywhere in the area to let everyone knows our house was for sale, from daycares to supermarkets. He also advertised online for better exposure. On top of it, he had two open houses back to back. He basically did whatever needed to get our house sold.
Last but not least, we were very impressed with his great understanding of each step and his customer service.
-Mulyono & Susan, IT Professionals
Purchased their dream home, Potomac, MD
Sold previous home, Germantown, MD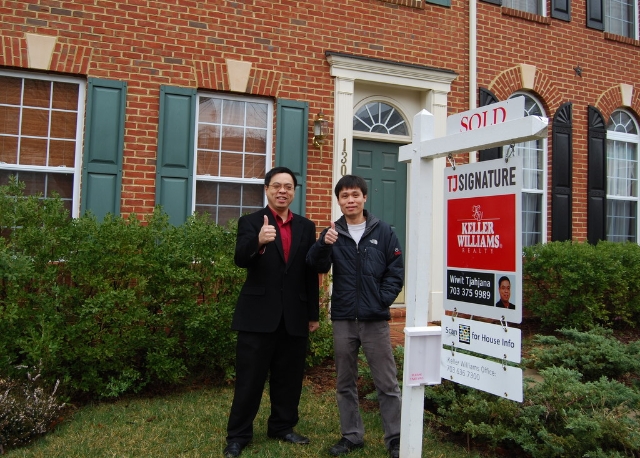 ---
Andy & Sherly, Business Operations Manager
Wiwit is an excellent realtor and by far the best we ever worked with. He is very organized and has your best interest at heart. He helped us find a great value investment property and followed through the complex short sale proceedings. We have nothing but praise for his professionalism and will definitely recommend him to anyone thinking of selling or purchasing a home.
- Andy & Sherly, Business Operations Manager
Purchased an investment/rental house, Manassas, VA

---
Ivette Ruiz, Public Health Advisor, US Department of Health & Human Services
Dear Wiwit:
Although we are in the middle of moving and painting, I just wanted to take a moment to thank you for your assistance in helping us find our new home.

We met in early March at an Open House that you were having in the area close to where we used to live. I appreciated your openness and sincerity in inquiring if we may need assistance in finding a new home since we had not yet signed up with a realtor and since the townhouse we visited did not meet our specifications.

We appreciated your listening to our needs and recommending listings in the neighborhoods closest to my job. Each outing turned into a pleasant adventure and you were ready to capture each moment with your camera as a way to document features that we may have liked in a specific home. We appreciated the bag of goodies in your car that you offered to us as a way to recharge our energies so that we could continue our home search.

Within a few months, we found a home that best suited our needs. You were there with us every step of the way and helped us navigate the offer, negotiation and inspection processes. You were most professional and patient in answering our questions and advising us on how best to proceed.

All in all, I can unequivocally say that this has been the best experience I have had in working with a Realtor and will wholeheartedly recommend you to my friends and family.

Again thanks so much for your great work.

Ivette Ruiz
Public Health Advisor
US Department of Health & Human Services
---
Victor Vinh Pham, Publisher & Editor, Song Than Weekly News
I have known Wiwit Tjahjana for more than two years. As a business person and a retired licensed contractor, I feel very comfortable in working with Wiwit for all of my real estate transactions in this area. He is honest and trustworthy and takes an excellent care of my real estate needs. He is always available to answer my questions and helps me achieve my goals. He is very detail in taking care of the matters, which is a very important aspect of his profession.

My wife and I really value his advice in improving the appeal of our properties before they were put to the market. He is also very aggressive in his marketing and able to generate results in a short time. For example, in our latest transaction, he is able to secure tenants for our house in a very short period of time and with a long-term lease. His due diligence in performing credit, income, and background verification of the prospective tenants helps us feel secure in renting out the house to qualified tenants.

As a magazine publisher, I have known many other Realtors, but we choose to work with Wiwit as he does much more than other agents whom I know and he does what he says he would do. He also values my precious time and has always been punctual in our appointments. He is available when I need him.

We have been very happy with our experience with Wiwit. We are moving out of state to be closer to our family; However, we look forward to working with him again as we have a number of houses in this area which we trust him with for future potential transactions.

I strongly recommend him to anyone who is looking to work with an agent as I'm sure he will take an excellent care of your business, as he has of my business.

Sincerely,

Victor Vinh Pham
Publisher & Editor
Song Than Weekly News
---
Krisnandito "Kikis" Hardjoko and Yosita Andari
We have been very pleased working with Wiwit in buying our first home. We have known Wiwit for a few years and have known him as honest, trustworthy and intelligent and we did not hesitate for a second to seek his help when we decided to buy a home.

Working with Wiwit made our quest for a home a very pleasant experience. We appreciate that he listened carefully to our needs and maintained open communication since the very beginning. He was very focused and systematically explained each step and option in detail without making us felt overwhelmed.

Wiwit was remarkably patient in guiding us yet he worked very fast and efficiently!

We contacted him on May 7th. By mid May we found two homes we fell in love with that fit with our criteria. Within less than 7 hours after we visited the last house, he provided us with thorough analysis and comparison of these two houses and the neighborhoods. His analysis truly helped us decided the house we wanted to buy and we felt confident and comfortable with our decision. Wiwit helped us prepare an offer strategy that enabled us to get significant price reduction and our offer was accepted on May 20th.

Our experience from that moment on to the closing has also been as smooth and stress-free due to Wiwit's ability to manage the process very well and also thanks to his excellent recommendation of inspector, lender, settlement company, etc.

Asking Wiwit for help in buying our first home was the right decision, as Wiwit did not just manage to find us our dream home but he also helped us save time and costs significantly.

We have been very happy working with Wiwit, and we certainly will recommend others to contact him.

-Krisnandito "Kikis" Hardjoko and Yosita Andari.
Kikis is Senior Engineer with Erin Engineering, and Yosita is Investment Officer with International Finance Corporation, World Bank Group.



---
Chris & Ely Milne
Wiwit,

I want to thank you for all of your hard work in not only selling my condo but finding our new home in Ashburn, VA. With your help we were able to get a quick sale, above listing price even after the misfortunate of our first buyer falling through. I appreciate all of your quick replies and thorough research to all of my numerous questions and concerns throughout the whole process. My wife and I also thank you for all of the personal attention you gave our new home search, as well as advice on our decision while keeping all of our goals in mind. I appreciate all of the tips and reminders of upcoming dates and deadlines for not only the sale and purchase but also things I need to do and take care of for all the new changes in my life.

I would be very happy to recommend you to any of my friends who might be looking for a Realtor. Thank you again!

Regards,

Chris and Ely Milne
- Sold their previous condo in Herndon, VA in 5 days, 4 offers, closed above list price.
Bought their dream home, Brambleton, VA.

---
Mario & Imelda Kodrata
Dear Wiwit & Ming -

Thank you so much for all that you did to get us into our new home. We appreciated each and every effort you made to give us the help we needed.

And also, thank you for the housewarming party you put together for us. We enjoyed it and had wonderful time together with our friends.

-Mario and Imelda Kodrata
Proud, first-time homeowners